Honda TLR200 frame, fitted with a Honda XL185 engine. The steering angle and foot rest position had been previously modified for the modern style of riding.
1989 Gas Gas 327 mono petrol tank.
I scraped all the paint off the tank, then used a hot air gun and a hammer handle to reshape the underneath, to fit onto the frame.
The front wheel was taken from a Aprilia RX with a disc brake and rebuilt using a Honda XL wheel hub. Luckily the same spokes fitted.
Homemade, wide Stainless steel foot rest.
Homemade aluminium front mud guard bracket. To design the bracket I used the card from a cereal box as a template. I held the card against the fork lugs then drew around it and marked the holes. I cut the shape out, then transfered this to the aluminium and used a jigsaw and a file to shape.
Mudflap part cut off and the remaining part reshaped to form the front of the mudguard.
Foam rubber seat pad shaped and engraved with Honda using a soldering iron.
Rear sprocket purchased from Talon Eng with the centre machined out to suit hub, then I drilled the fixing and lightening holes.
Honda XL185 Wiring Diagram. I had difficulties wiring the engine because I didn't have a wiring loom. I did a lot of research on the internet which I didn't find too helpful, so with a lot of trial and error and trying different CDI units I eventually managed to get a spark. So I have created this wiring diagram for future reference and maybe to help other people. (Please note this diagram shows wiring without the need for a battery)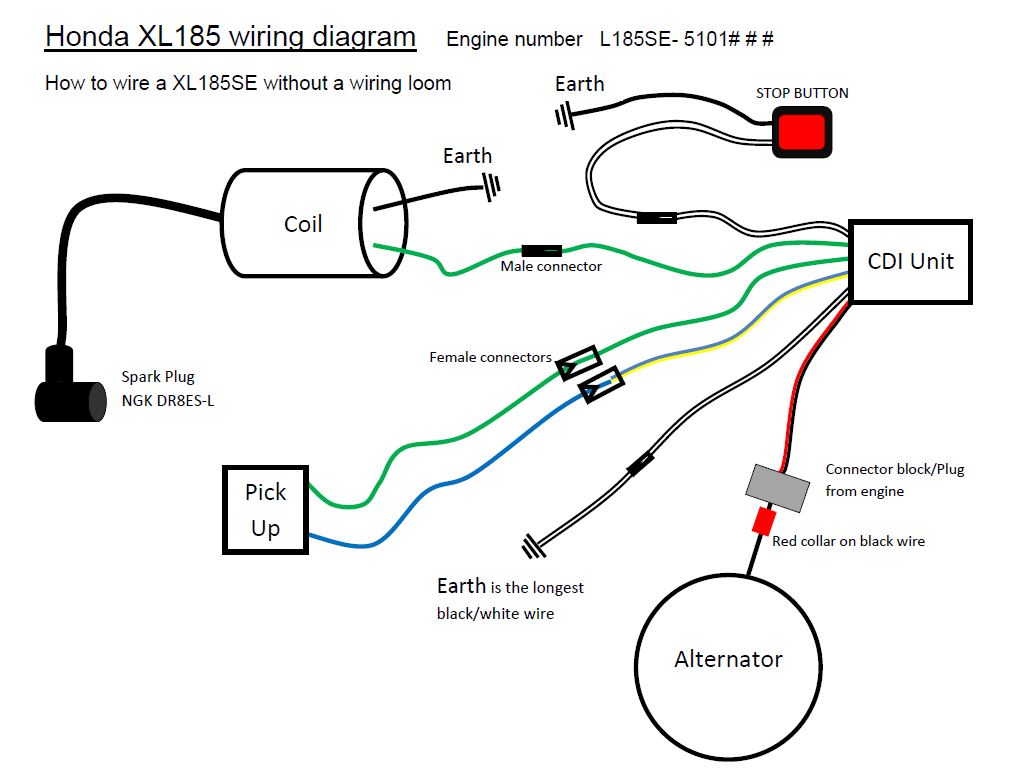 Bike assembled and ready to test ride. Then I will need to do the finishing touches, like fitting the new mudguards, inner mudguard, new rear shocks, new chain and sprockets etc.
Parts are now sprayed and I am starting to assemble the bike, rebuild includes new RockShocks.
I have since removed the XL185 engine, primarily because I couldn't get it to run properly, but the ratio between the first and second gears was also too large. I plan to fit a XL125 gearbox to the XL185 engine at a later date, but in the meantime I have fitted a CG125 engine. Alternatively, I may try to increase the capacity of the CG125 engine to 150cc (any advice would be appreciated).